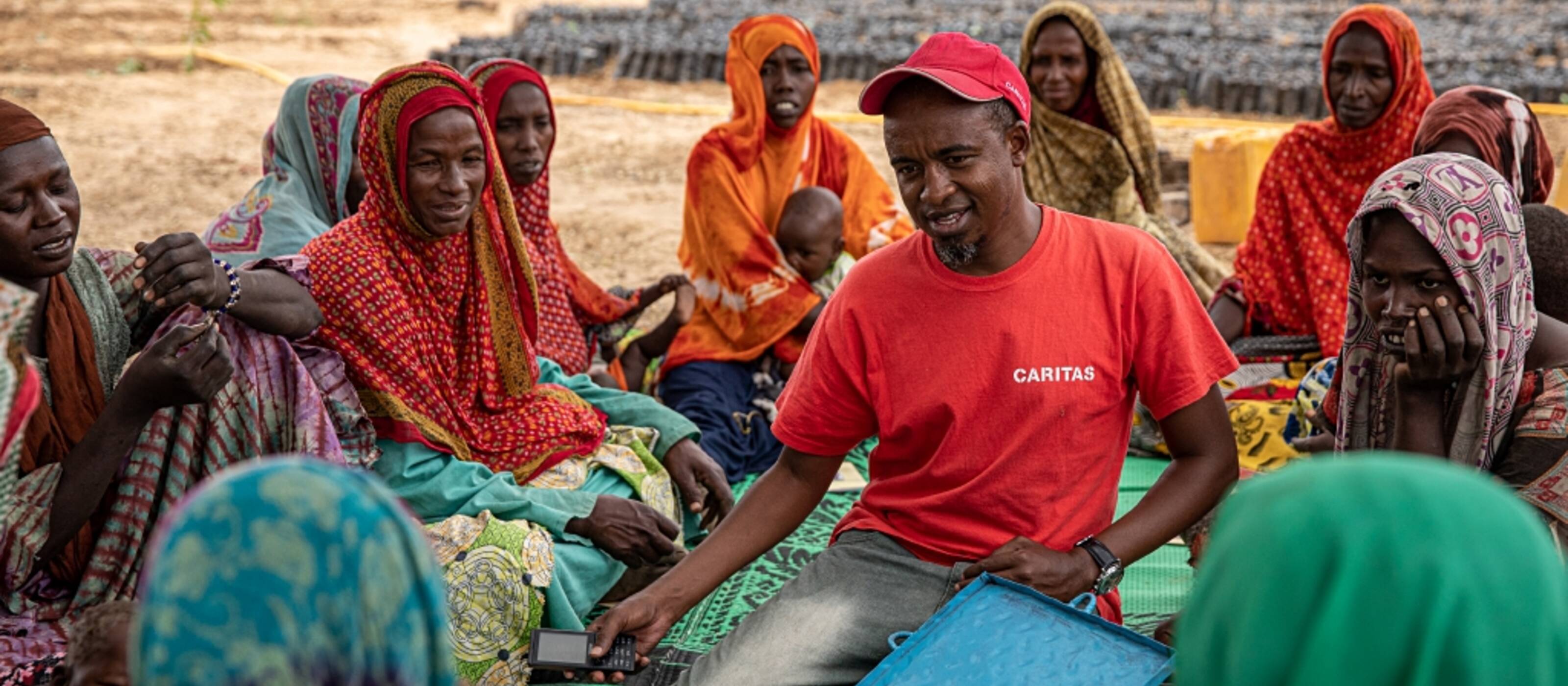 Aid in fragile countries: How Caritas approaches its projects
«Nexus Approach» simply explained
Caritas Switzerland is active in around 20 countries, where there are often multiple and recurring conflicts and disasters. This requires much flexibility and short-term adjustments to the aid projects. That this can succeed is thanks to the so-called «Nexus Approach», as a project in one of the poorest countries in the world shows.
Today's crises no longer correspond to the emergency aid of the past. Then, for example, if an earthquake occurred, Caritas would support people with food, water, or shelter, and after a few months would move on to reconstruction or long-term development aid.
Today's crises, however, are more complex, more dynamic, and more frequent. Droughts, floods, and other natural disasters increasingly affect countries that are already politically and economically unstable or in armed conflict. This means that there are several simultaneous crises, which can last for decades and flare up again and again. In short, the situation on the ground has become more unpredictable. This also makes crisis management more challenging, as there is a constant change between emergency aid and development phases.
Coordinating both areas from the beginning
Caritas Switzerland has therefore adapted its approach. It increasingly relies on the so-called «humanitarian-development nexus» of international cooperation. 'Nexus' stems from the Latin word 'nectere' meaning «to knit together» or «to bind».
Accordingly, this integrative approach links the areas of humanitarian aid and development cooperation. In this way, long-term and sustainable solutions to complex crises can be created. In order to build a stable society, Caritas usually complements the two areas with measures that promote social cohesion between different groups and communities.
The areas are already combined and coordinated in the design of a relief project. A constant risk analysis is also necessary. For example, the so-called country programmes are empowered to take preparatory measures in order to be able to react quickly to possible humanitarian crises or other unforeseeable conflicts.
Through the «Nexus Approach», the multi-layered problems can be addressed holistically. Only in this way can financial and human resources be used in a targeted and efficient manner; only in this way too, can projects be sustainable and outlast future crises. After all, this is the core of the «Nexus Approach», thanks to which the people affected can be helped in the best possible way.
Chad: Helping people to help themselves
Unfortunately, these periods of food shortage last for several months in certain parts of the country. Caritas Switzerland has to take these low-yield seasons into account in its project development. For example, the living conditions of smallholder families cannot be improved in the long term as long as their children suffer hunger at home.
This is where the «Nexus Approach» comes into play. Caritas and its local partners link seasonal food aid with expanding the income base through vegetable cultivation, and learning efficient and resource-saving cultivation methods. At the same time, they network the various actors, authorities, and stakeholders so that strategies can be jointly developed, and activities implemented to combat food insecurity.
The intention is, that by linking humanitarian aid and development cooperation in this way, people should be able to free themselves from poverty and dependence on aid. Thanks to the «Nexus Approach», Caritas Switzerland is able to support the population not only quickly, but also long-term and in a sustainable manner.
Further information
Header image: © Caritas Switzerland