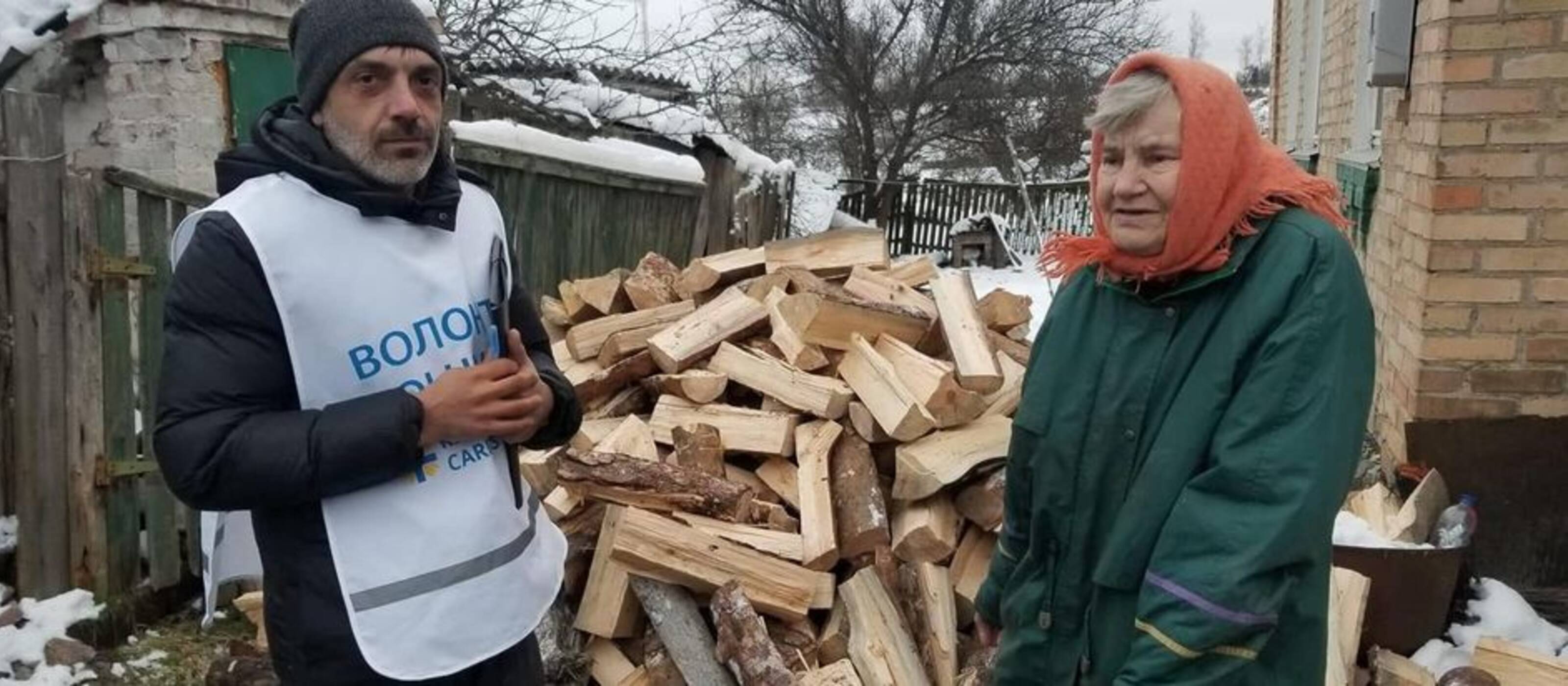 Assistance for the victims of the war in Ukraine
Ukraine, Poland, Moldova, Romania and Slovakia
Your donation for the people from Ukraine
Caritas Switzerland is providing humanitarian aid and supplying people in Ukraine with basic necessities. Protecting them from the cold is the focus, both now and in the coming months In the neighbouring countries of Poland, Moldova, Romania and Slovakia, Caritas supports the reception, accommodation and care of refugees.
The war in Ukraine has caused a humanitarian catastrophe. People have lost their livelihoods, families have been torn apart. Refugees and those left behind are traumatised by the horrors of war.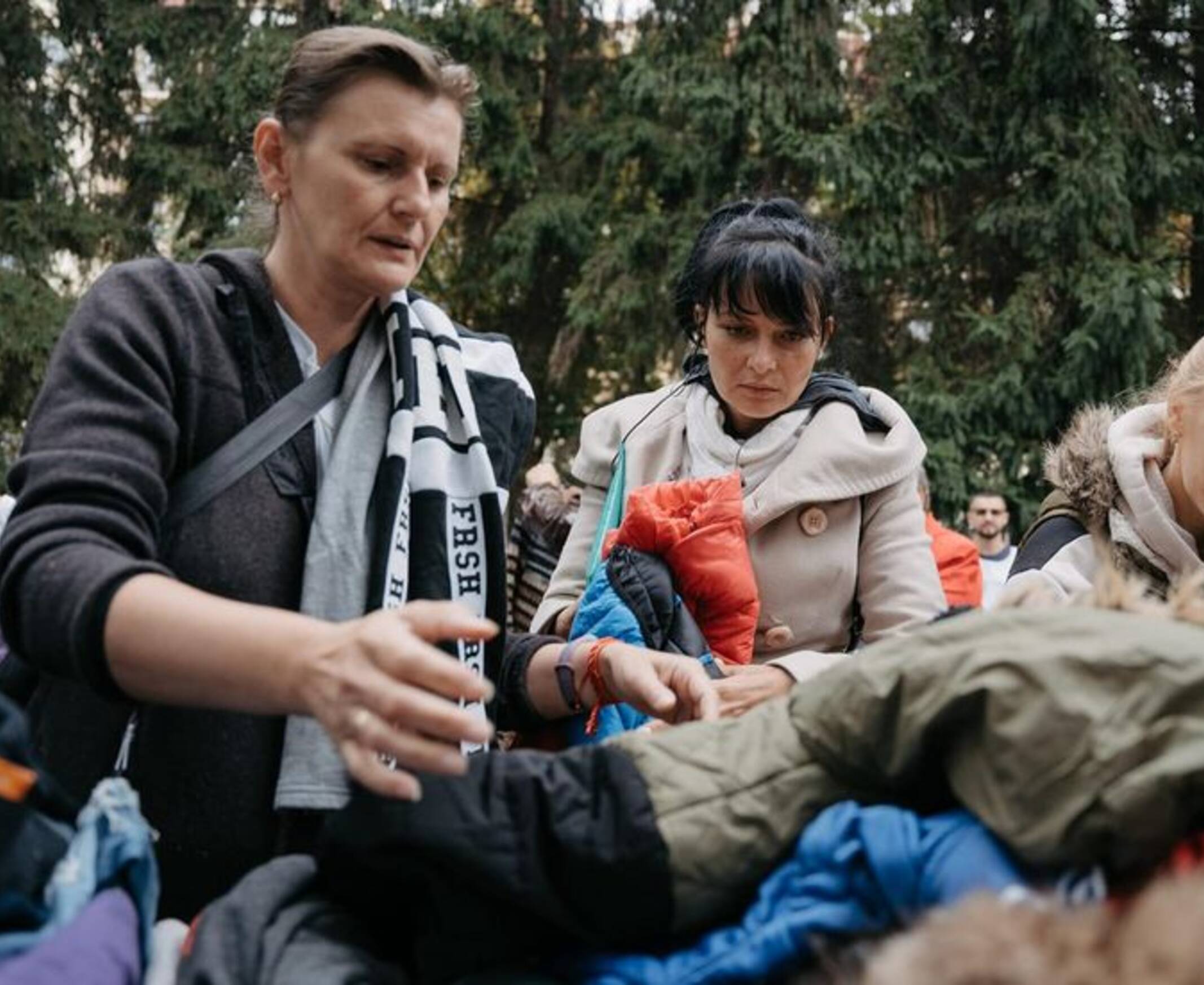 Focus: winter aid in Ukraine
The homes of more than 2,5 million people have been damaged in recent months. 30-50 percent of the country's power supply has been destroyed. And the military attacks are continuing. At the same time, winter has set in and temperatures are falling on a daily basis. Hence the reason why Caritas has been helping people in Ukraine to brace themselves against the cold since November and keep warm through the winter.
Ukrainians lack blankets, winter clothing and firewood. They need money to patch up their homes. Speedy help without any red tape is urgently needed. Caritas is supporting people with cash and house repairs. This includes providing them with warm clothing, blankets and means of heating. In addition to the winter aid, we offer emergency shelters and soup kitchens.
«We are expecting to be in for a tough winter. Especially for those who have had to flee from the fighting. We are doing our utmost to ensure that people do not freeze.»Lukas Voborsky

Director of the Ukraine Crisis Response at Caritas Switzerland
Caritas aid is continuing
The humanitarian situation in Ukraine remains disastrous. 17,7 million people depend on humanitarian aid. There is a lack of necessary goods such as food, water and medicine. Daily life is immensely difficult, as important infrastructure has been destroyed and the availability of electricity is patchy. The advancing winter is posing enormous challenges for everyone. 
In more than 70 centres and with mobile teams, Caritas in Ukraine provides people throughout the country with the necessities of life: places to sleep, food, clean drinking water, hygiene articles and medicines. Women and children in particular receive important support, for example through the Child Friendly Spaces Initiative, which enables children to participate in recreational activities in order better to cope with the psychological stress. The local Caritas centres also support people in their preparations for the winter, which many anticipate with great anxiety.
Since the beginning of the war, Caritas has assisted over five million people across Ukraine. More than a thousand Caritas staff and countless volunteers work tirelessly to provide this help. Due to the war action, humanitarian work has to be interrupted in some places for the safety of staff and beneficiaries.
Cash assistance
While hopes for a quick end to the war were high at the beginning, the people of Ukraine are now forced to find longer-term solutions. The savings of many families are running out. Thousands have lost their job. In the south-east of Ukraine, Caritas Switzerland supports vulnerable families on their onward journey with emergency cash assistance. In and around the city of Odessa, many displaced families are settling for a longer period. They and their host families receive financial support for six months to enable them to build a new livelihood and make urgently needed preparations for the winter.
«The cash assistance enables the families to support themselves withdignity. At the same time, it boosts the local economy», explains Lukas Voborsky, Director Ukraine Crisis Response at Caritas Switzerland. In addition, Caritas offers people psychosocial support to help them cope better with the impact of the war and traumatic experiences.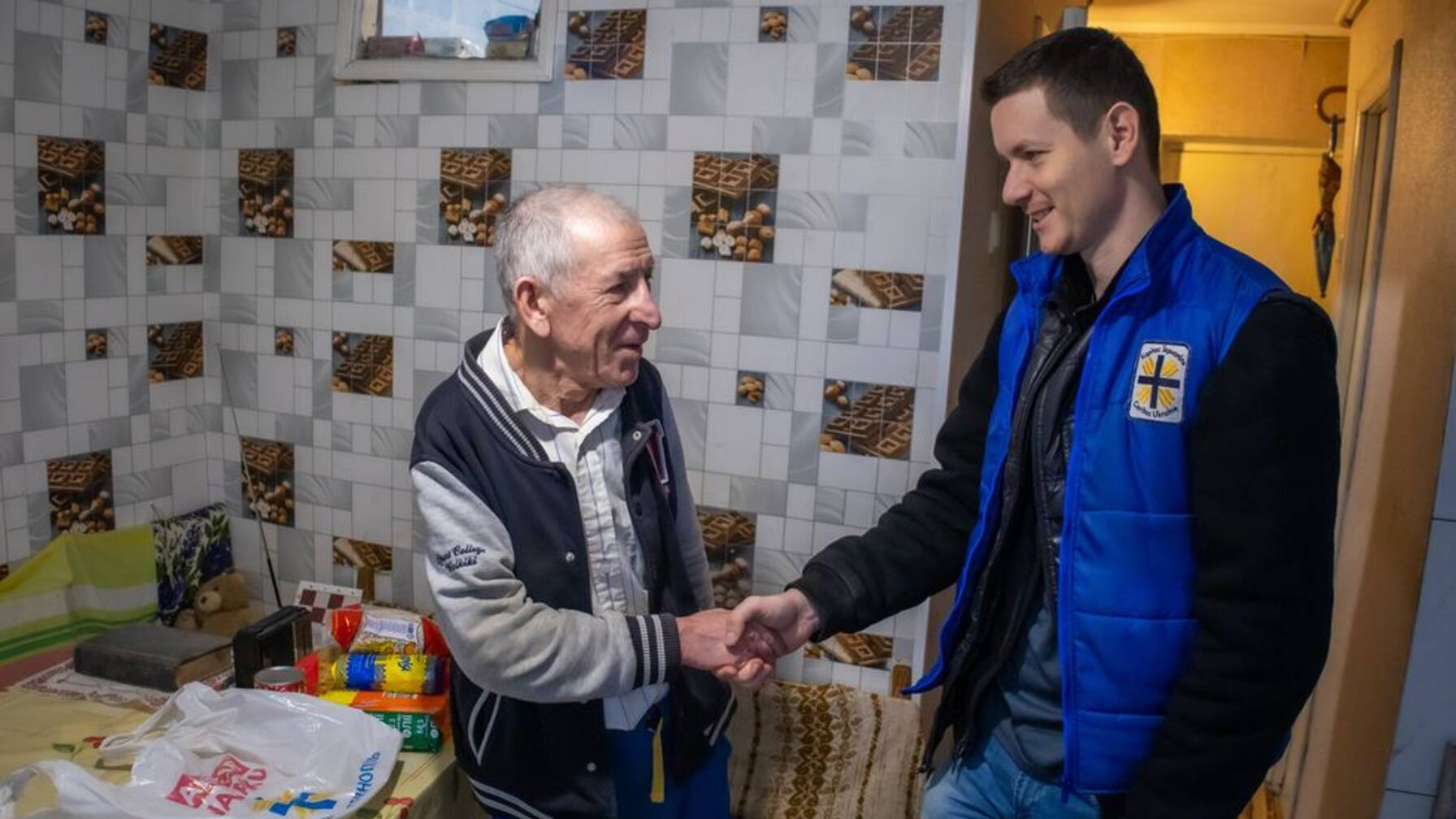 At times like these, personal contact with those affected is particularly important. © Caritas Ukraine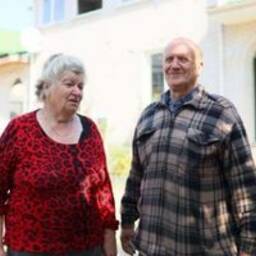 «To prevent us freezing to death, friends took us into their home.»Kateryna und Ivan Mazur
Kateryna and Ivan Mazur's home in Irpin was hit several times by shells. The couple were lucky to escape the bombardment with their lives. Kateryna says: «Shells blew out all the windows and the front door. We had to endure ten days without windows. To prevent us freezing to death, friends took us into their home, as temperatures are dropping below zero every day.»
After ten days, with the support of Caritas, the pensioner couple received new windows and a large delivery of firewood. «We are very grateful to be back home and to have enough wood for the next few weeks,» says Ivan Mazur.
Aid in the neighbouring countries
7,9 million people have fled across the border from Ukraine in search of protection. Providing long-term support and accommodation for the refugees is very challenging for these countries.
Caritas Switzerland provides support in cooperation with local Caritas organisations in Poland, Romania, Moldova and Slovakia. Refugees are provided with basic necessities such as food parcels, medicine and hygiene products. In its centres, Caritas also supports these people with services such as language courses, vocational guidance and childcare. In addition, longer-term accommodation has been set up. Vulnerable people such as e.g. evacuated children from orphanages in Ukraine are sheltered in these places. Psychological support and legal counselling are further pillars of the aid.
Swiss Solidarity, the Swiss Agency for Development and Cooperation and Cordaid are providing support for the cash assistance and winter aid in Ukraine. The project in Poland is also supported by Swiss Solidarity.
The needs will continue to be enormous in the coming months and will continue for years to come. Caritas Switzerland has therefore made a long-term commitment in Ukraine and neighbouring countries and continues to urgently need support.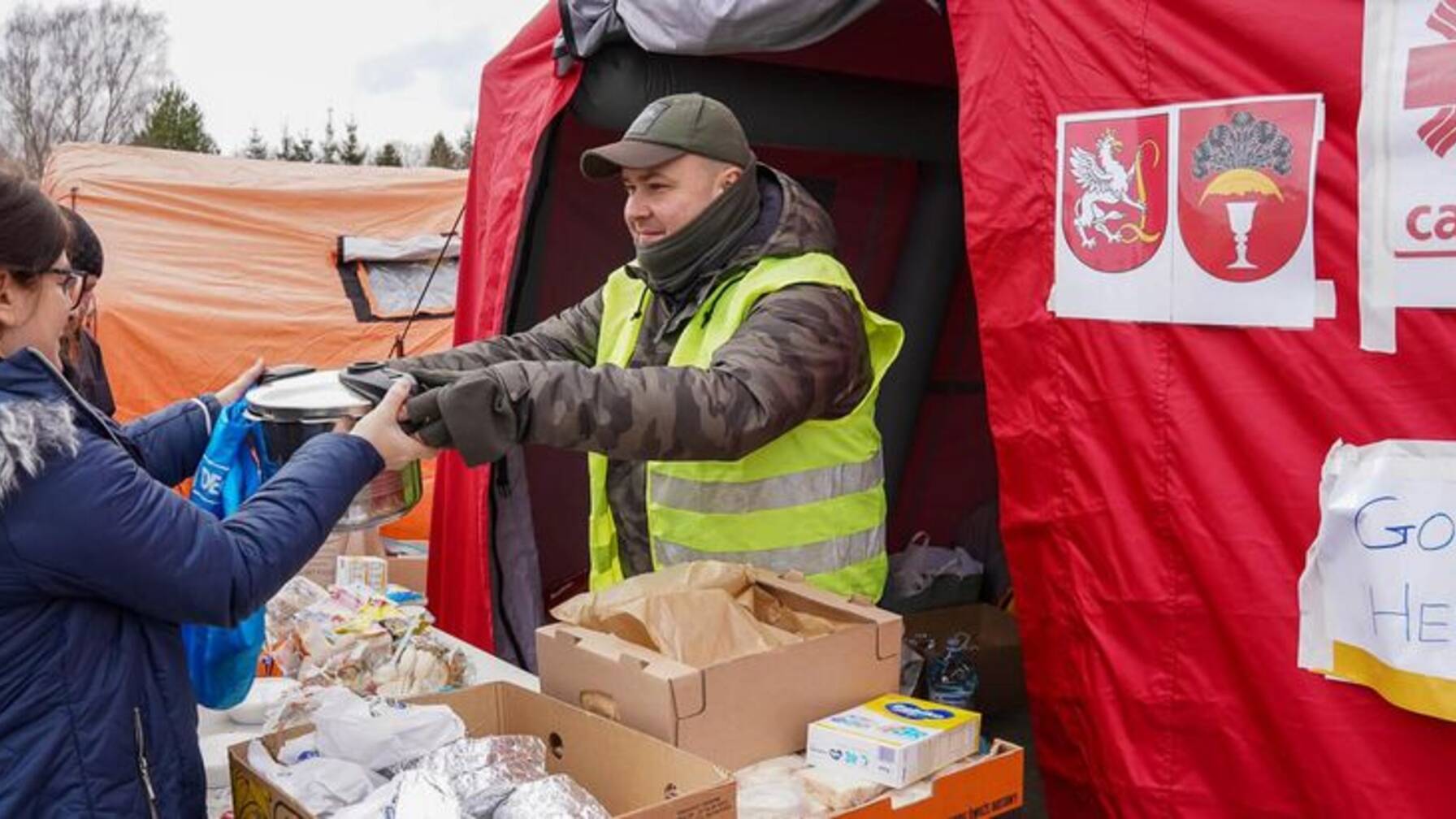 At the border in Budomierz, southeastern Poland. Local Caritas works closely with volunteers and border authorities. 26.2.2022. © Caritas Poland
This project is supported by:
Header image: © Caritas Ukraine