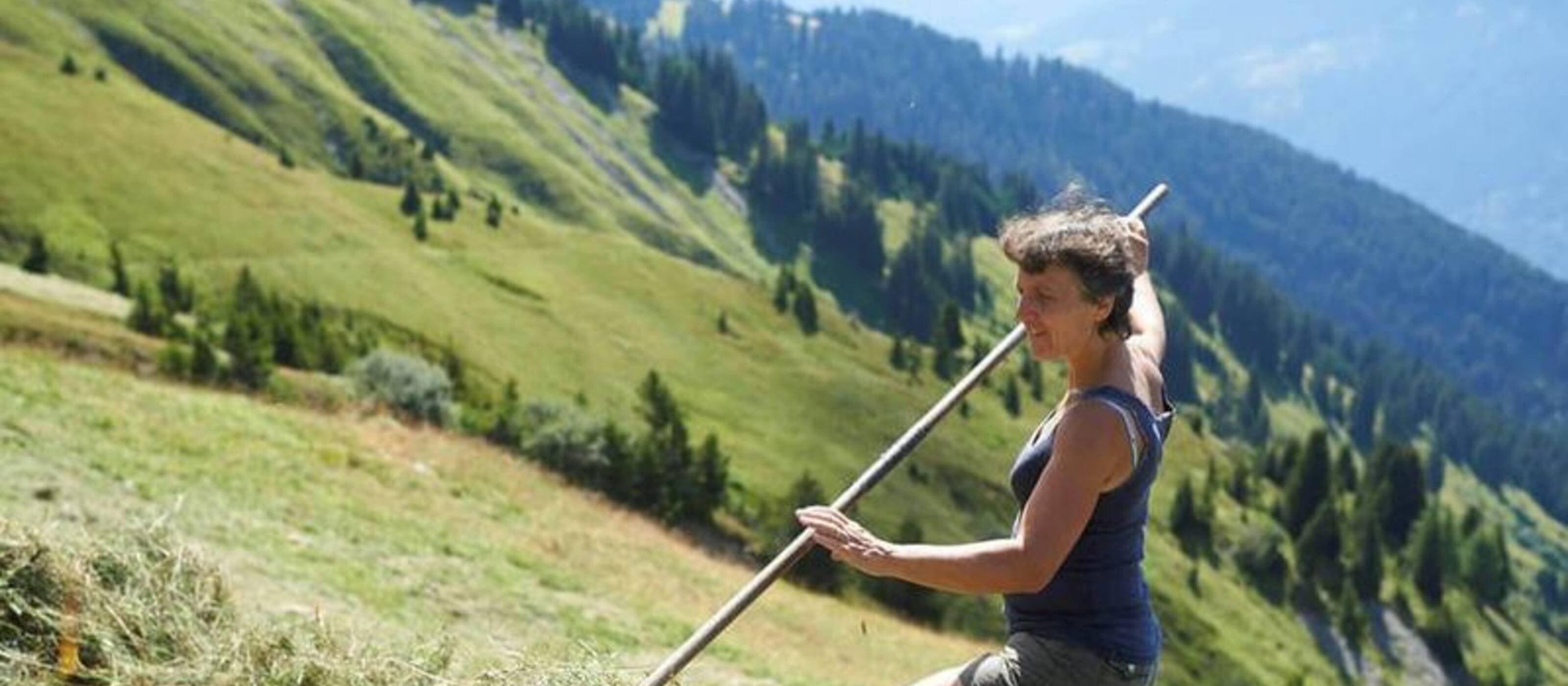 Caritas Switzerland seeks 1'500 volunteers to support mountain farmer families in need
Caritas Switzerland is looking for volunteers for the summer who will actively support mountain farmer families in need. We are looking for people who want to be hands-on, who value getting an insight into a new world, are mentally and physically healthy and want to secure the livelihoods of the mountain farmers.
'It's difficult to put the experience as a volunteer into words. For me, it was joyful and exhilarating to be outdoors with the people, to be there with and for the animals. Yes, it's strenuous, and in the evenings, I was glad to be able to go to bed early. But it's worth it, and I definitely want to go back to 'my alp' this summer.' These and similar views are expressed to Caritas Switzerland by volunteers who have been on an assignment with a mountain farming family. Although it is felt to be hard work, it is nonetheless valued. Making hay, mucking out, helping around the house, looking after children and caring for animals are part of the range of tasks. These activities are in contrast to the volunteers' own daily life, of being constantly connected, and enable them to get to know a new world.  
An accident or illness quickly push mountain farmer families to their limits
Every year in the summer, many mountain farmer families need help to enable them to cope with the work in this busy season. We have already received 97 requests from families. An accident, an illness, building projects, a pregnancy or the extra work after a thunderstorm can quickly push mountain farmers to the limits of their capacities. The helping hands of volunteers bring the needed relief to manage the situation. 
They arrive as strangers and leave as friends
A placement is an experience both for the volunteers and for the mountain farming families. The volunteers are warmly welcomed and experience the daily life of a family in a stressful situation. Many lifelong friendships have been forged as a result of a mountain assignment. At the same time, the volunteers bring the outside world to the mountain farmers who often live in remote areas. The interaction is greatly appreciated.
Search online for mountain farms
An assignment lasts at least a week. Anyone between the age of 18 and 70, who is motivated and mentally and physically healthy, can take part. You can simply register online for an assignment.
Header image: Every year in the summer, many mountain farmer families need help to enable them to cope with the work in this busy season. © Franca Pedrazzetti