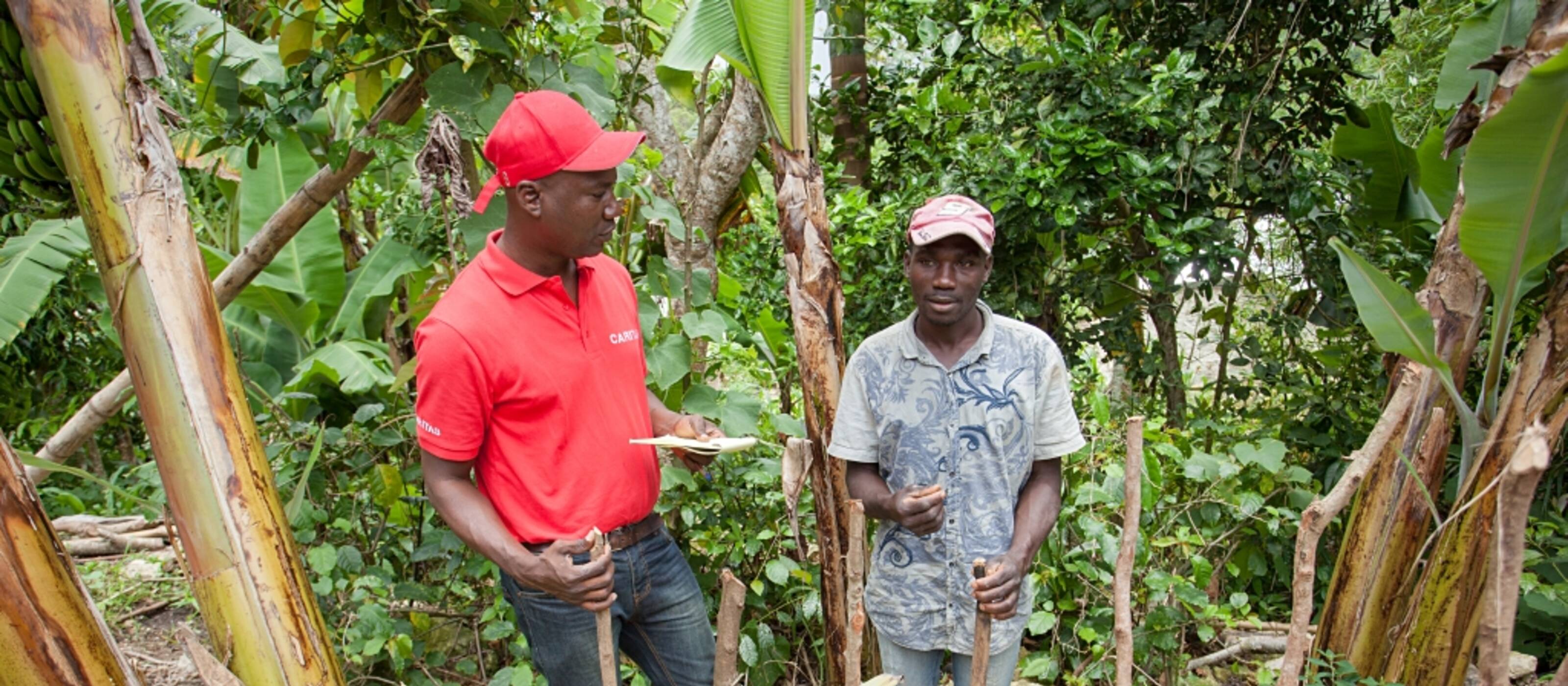 Caritas continues its work under the most difficult conditions
Situation in Haiti continues to deteriorate
The situation in Haiti is tense. As the capital Port-au-Prince is dominated by criminal gangs, Caritas Switzerland is moving its headquarters to the hinterland. Thanks to the tireless efforts of staff and local partners, the work continues. This is important because food security has never been worse.
Jeannette von Däniken, you are the head of Caritas Switzerland's Haiti programme. How would you describe the situation in Haiti?
The humanitarian situation is very worrying and continues to deteriorate. In Port-au-Prince, kidnappings and armed violence are on the rise again, but so far still below the level of the spring. In June, there were devastating floods in some regions. This followed a dry period, which already had a negative impact on the harvest. In the south, people also continue to struggle with the aftermath of the August 2021 earthquake. Many houses are no longer habitable or have been repaired with simple tarpaulins. The humanitarian crisis is worsening. Never before has the food supply of so many people been at risk. It is to be hoped that the current hurricane season, which lasts from June to November, will be as calm as possible.
Caritas Switzerland is reorganising its aid in Haiti. What does this mean?
Following the decision of the Swiss Agency for Development and Cooperation (SDC) to withdraw from development cooperation in Haiti and only continue a humanitarian aid programme, we had to abandon one project prematurely. We now have to look for other donors to sustain our programme in Haiti. For now, we will limit our activities to the existing projects and prepare for a powerful return with new projects. In addition, we have decided to move our office in Haiti from Port-au-Prince to Les Cayes. We are already running a project there, plus there is less gang violence.
We always try to maintain the long-term perspective of our projects. With our activities, we contribute to sustainably improving people's prospects in life. At the same time, we work to meet the most urgent needs of the local population. Thanks to the flexibility, expertise and creativity of our local staff, we are able to adapt to complex and volatile circumstances. Not to forget our local partner organisations. Despite the reduced financial resources available to us today, they are doing their utmost for the people in Haiti.
What can Caritas do in the face of so many problems?
Caritas Switzerland has been active in Haiti since 1976 and has had to constantly adapt to changes over all these years. During this time, our team has learned to remain flexible and to react quickly to emergency situations and new conditions. However, this does not mean that we do not have a plan. Rather, we have to realign it again and again without losing sight of our goals. It has also proved very beneficial for us to maintain close contact with our donors. This way, they are always informed and, if necessary to continue reaching out to the population, quite open to adjustments within the framework of the projects and the budgets.
Also, we work more and more outside the big cities and with a minimum of material brought in from Port-au-Prince. This way we are less affected by the tensions and insecurity in the capital.
What are the current prospects?
We are determined to stay in Haiti. We are currently implementing a project to improve food security in the community of Cavaillon, near Les Cayes. We are working with a local partner as well as farming families, artisanal seed cooperatives and micro-enterprises that process agricultural yields. In this way, we aim to achieve more diverse farming and ensure local food availability. In the long term, we are planning further projects in three areas: watershed management, natural resource protection and the use of green energy in southern Haiti.
Written by Fabrice Boulé, Head of Team Communication Suisse romande, Caritas Switzerland
Interview requests and further information: medien@caritas.ch
Further information
Header image: © Daniel Kedar